.
Public health management of Q fever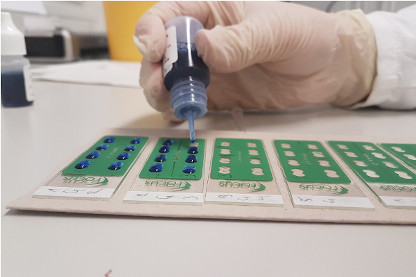 Photo: Landesgesundheitsamt Baden-Württemberg
Indirect Immune Fluorescence Assay for detecting human IgG and IgM antibodies against Coxiella burnetii
Abstract
The aim of this project is to improve the management of Q fever in the public health system, for both human and veterinary sides. The main focus is on composing a written guideline for Q fever to monitor Coxiella burnetii, prevent its spread and optimize and standardize the course of action in the case of a Q fever outbreak. This guideline will incorporate the different projects of the consortium and will be discussed and complemented by the members of this consortium during regular meetings. A second focus is on improving Q fever diagnostics by developing new techniques on the human side and transferring a human test system to veterinary diagnostics. A third focus is on analyzing the Q fever fatigue syndrome within the context of a Q fever outbreak.
Principal investigator

Prof. Dr. Silke Fischer
Regierungspräsidium Stuttgart, Abt. 9 Landesgesundheitsamt
Head of Unit 93, General Hygiene and
Infection Control
Web link
Head of Reference Laboratory for Coxiella burnetii
Web link
Nordbahnhofstr. 135
70191 Stuttgart
silke.fischer(at)rps.bwl.de
---
Scientific Assistants
Dr. Larissa Dangel
Regierungspräsidium Stuttgart, Abt. 9 Landesgesundheitsamt
Referat 93, Allgemeine Hygiene und Infektionsschutz
Nordbahnhofstr. 135
70191 Stuttgart
Larissa.Dangel(at)rps.bwl.de
Dr. Maik Konrad
Regierungspräsidium Stuttgart, Abt. 9 Landesgesundheitsamt
Referat 93, Allgemeine Hygiene und Infektionsschutz
Nordbahnhofstr. 135
70191 Stuttgart